What's Up Wednesday, started by Jamie Morrow and Erin Funk, is a weekly meme geared toward readers and writers, allowing us to touch base with blog friends and let them know what's up. 
WHAT I'M READING
On an actual book with pages:
THIS IS WHERE I LEAVE YOU, by Jonathan Tropper
This has been on my To-Read list forever. Then I saw it was going to be a movie, with Adam Driver–who I love, love in GIRLS–
so I bumped it up. It started out slow for me (I hate to be thrown back into flashbacks or suffocated by too much backstory), but I kept at it. And I LOVE it. This'll be one I move along to the next lucky reader. Probably my sister.
Still reading on audio:
MAYBE SOMEDAY by the great Colleen Hoover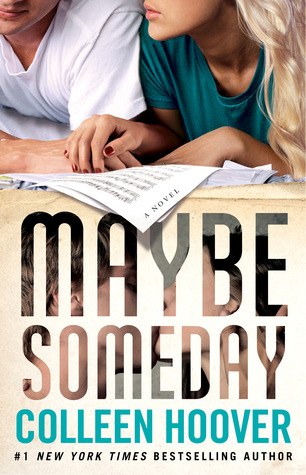 Ms. Colleen is quickly becoming one of my favorite authors! I love her characters and her heart-wrenching stories!
Kindle book (if you couldn't tell, I'm incapable of reading one book at a time):
SNEAKING CANDY by Lisa Burstein
So far, a fun read with a strong female lead.
WHAT I'M WRITING + A GOAL
I'm still working on my new WIP, OPEN:
Emeline, a girl who just went through a rough cheating-filled breakup (his end), writes off all relationships until her friends propose trying something new: instead of dealing with all the jealousy and worrying if her man is sneaking around, Em should just allow it. She should try an open relationship, where both Em and her new beau date whoever they want. Emeline tries it, but finds her jealousy monster rearing it's ugly head again, no matter how open her new guy is with her.
My goal of finishing the first three chapters has failed. Miserably. I'm nearing the end of my second, but I'm brainstorming how I want the second chapter to end. I can't decide which way I want to go with it and I can't move forward to a different part of the story until I choose. This choice will determine what happens in the entire book. So. I must choose wisely.
My new goal will be to write out a list of choices on which way the chapter should go and finally make a choice!
WHAT WORKS FOR ME
Sometimes people need white noise to sleep. I need what I call "white sight" to write. I have to have the TV on, but it has to be on mute. I do best when I can look up at a screen and see something happening on it. If it's blank, I am too.
WHAT ELSE IS NEW
I'm thinking about trying a totally plant-based diet for like a week. It's not necessarily to lose weight (although getting healthier is part of it, for sure), but there will be a time where I would like to eat only what I grow and I can't grow Ben & Jerry's or Subway in my backyard. As much as I'd really, really like to. The health issues I'm hoping it will help solve are my migraines, nearly high blood pressure (I'm only 33), and of course my waistline…and who knows what else. Pre-diabetes? High cholesterol? I haven't had those things checked. When I start the week, I'll be sure to mention it here on my blog. Wish me luck!
What's up with YOUR Wednesday?