What's Up Wednesday, started by Jamie Morrow and Erin Funk, is a weekly meme geared toward readers and writers, allowing us to touch base with blog friends and let them know what's up. 
WHAT I'M READING
On an actual book with pages:
WHY WE BROKE UP by Daniel Handler
My initial reaction to this book was, "Yeah, I don't know." But then I kept reading and I got through half of it before a bathroom break. It's good, but literary in a way that I'm not used to. Once you catch on though, it's tough to let go.
On audio (Audible is one of my guiltiest pleasures!):
MAYBE SOMEDAY by the great Colleen Hoover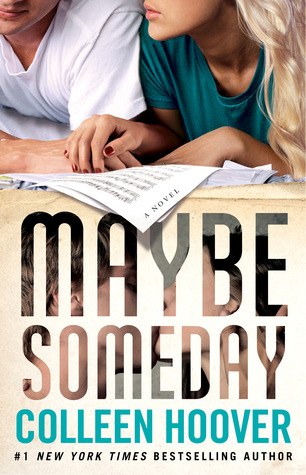 Ms. Colleen is quickly becoming one of my favorite authors! I love her characters and her heart-wrenching stories!
WHAT I'M WRITING + A GOAL
I'm between projects at the moment. You can see more on my What I'm Working on Now tab, but I'm letting my Nano project, BONNIE AND CLAIRE, rest a while so I can draft OPEN, a story I'm super stoked about.
Emeline, a girl who just went through a rough cheating-filled breakup (his end), writes off all relationships until her friends propose trying something new. Instead of dealing with all the jealousy and worrying if her man is sneaking around, Em should just allow it. She should try an open relationship, where both Em and her new beau date whoever they want. Emeline tries it, but finds her jealousy monster rearing it's ugly head again, no matter how open her new guy is with her.
The goal. Um. Well, I don't really know a goal. I try not to set a daily word count unless I'm doing Nano, so I'm not sure. Maybe get the first three chapters of OPEN done before next Wednesday? Good enough.
WHAT WORKS FOR ME
A lack of structure. Sometimes I outline, sometimes I don't. Sometimes I write the first chapter and then outline. Sometimes I write the entire thing and then write an outline to help me organize how my edits are going to go. I try not to put so much pressure on myself. I used to love editing more than drafting, but now I've flipped my opinion. I've never been accused of being consistent in anything that I do, so I just let things go with the flow.
WHAT ELSE IS NEW
I'm growing more and more comfortable with the genre that I've been writing in since the beginning of the year. When I first started writing, I did YA. Then I tried MG (which totally wasn't me) and even chapter books. I don't know if I'll ever will be good at writing in these other genres, but NA seems to fit me nicely. I think I'll keep it for a while.
What's up with YOUR Wednesday?